Unique features of Reactored
Share and create language courses easily, do versatile tasks and scale your teaching for all devices.
A new era of online language teaching is here!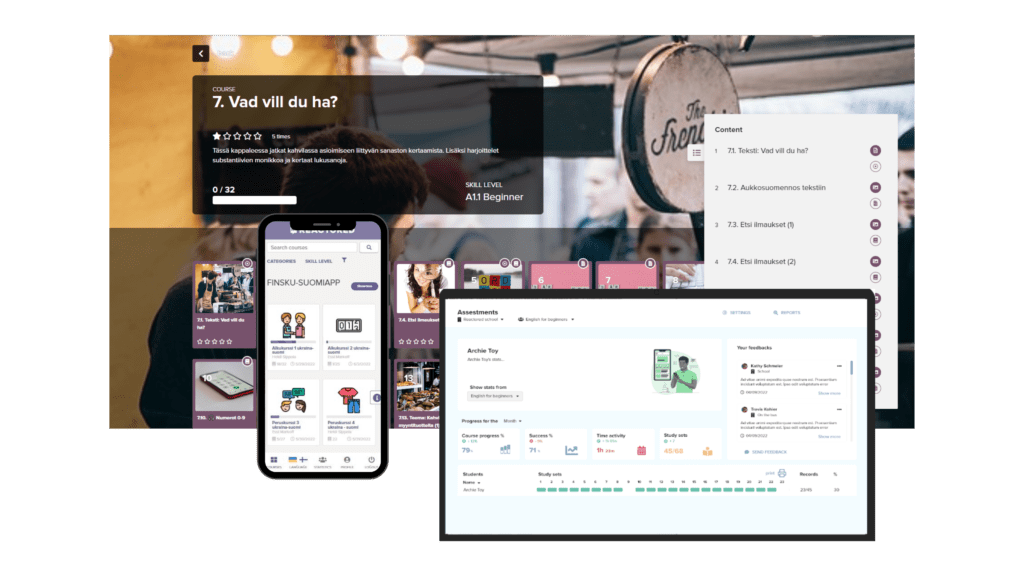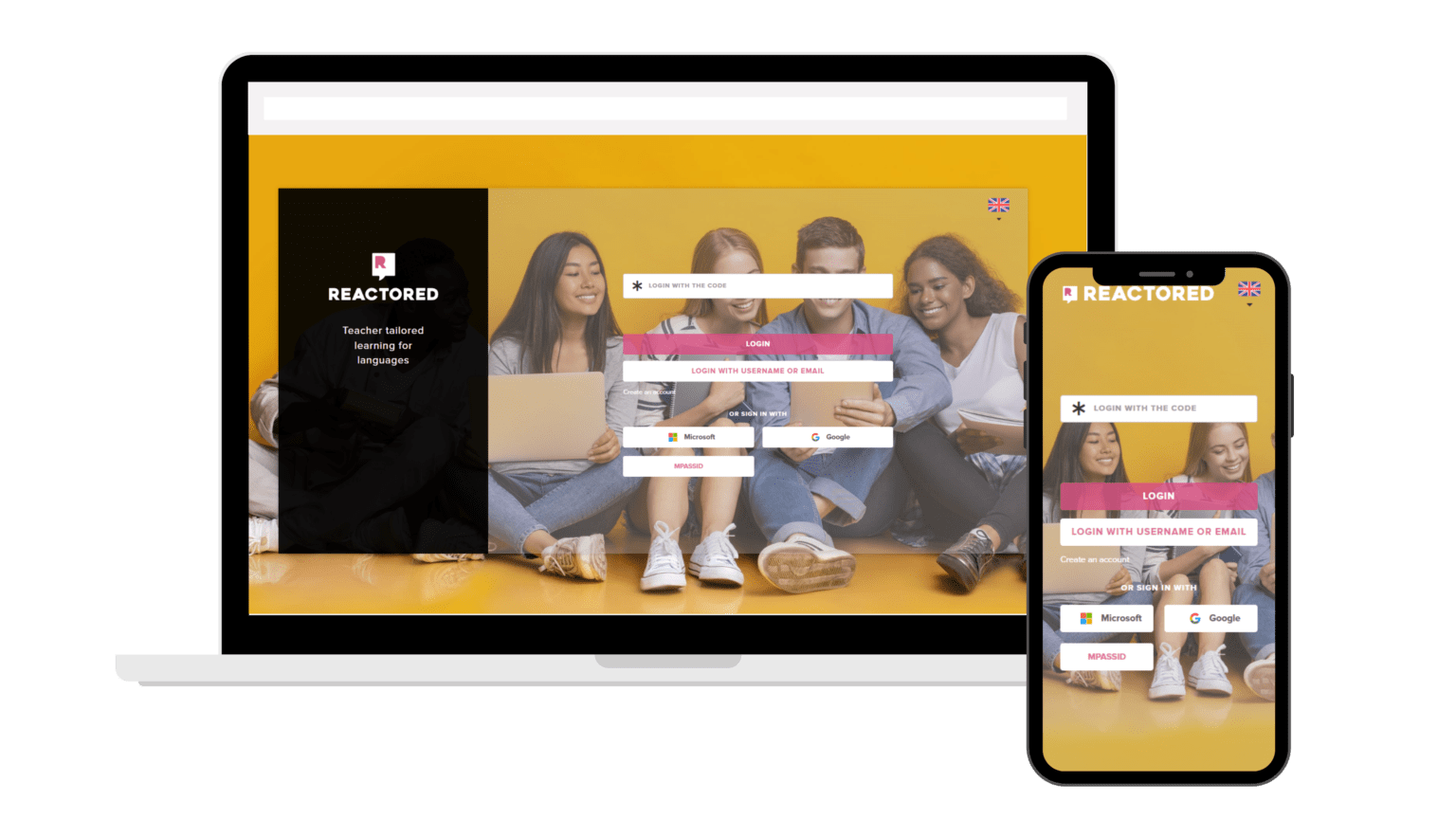 You can register for the Reactored learning environment with your own email address or by using SSO login directly. After registration, you decide your role as teacher/student and you can log in. After this, create your own groups, add teaching materials and tasks, and begin learning right away.
Ready-made learning materials + efficient course management
Build your own lesson packages in the course folder or copy existing learning content from Reactored's library.
The library contains Ready-made, editable lesson templates for 10 languages. Learn more from here!

When the course is ready, share it with the group you created and students can practice your tasks
You can share the same course to several different groups.
Courses are evaluated automatically through groups, so the only thing you need to worry about is adding students to the group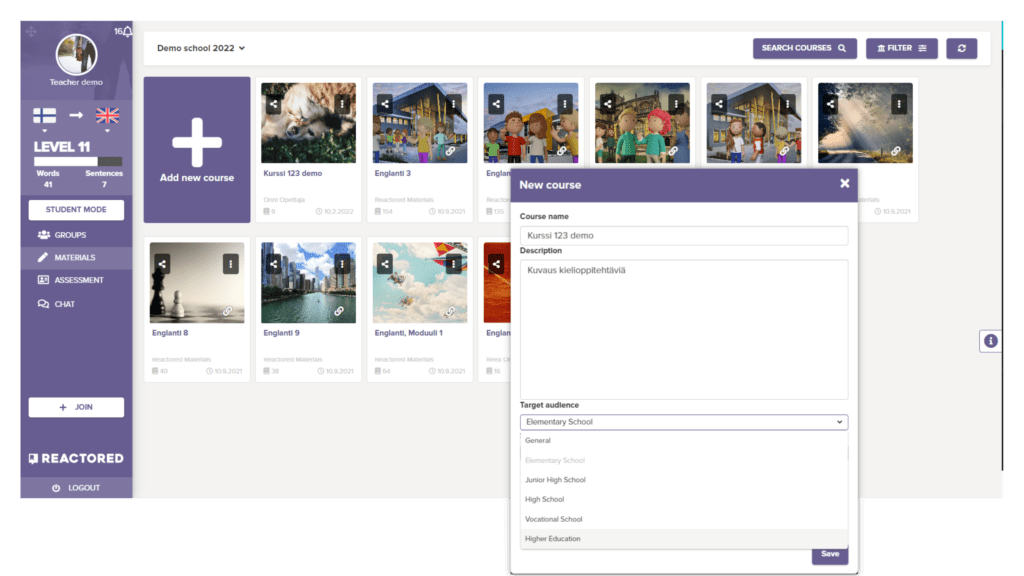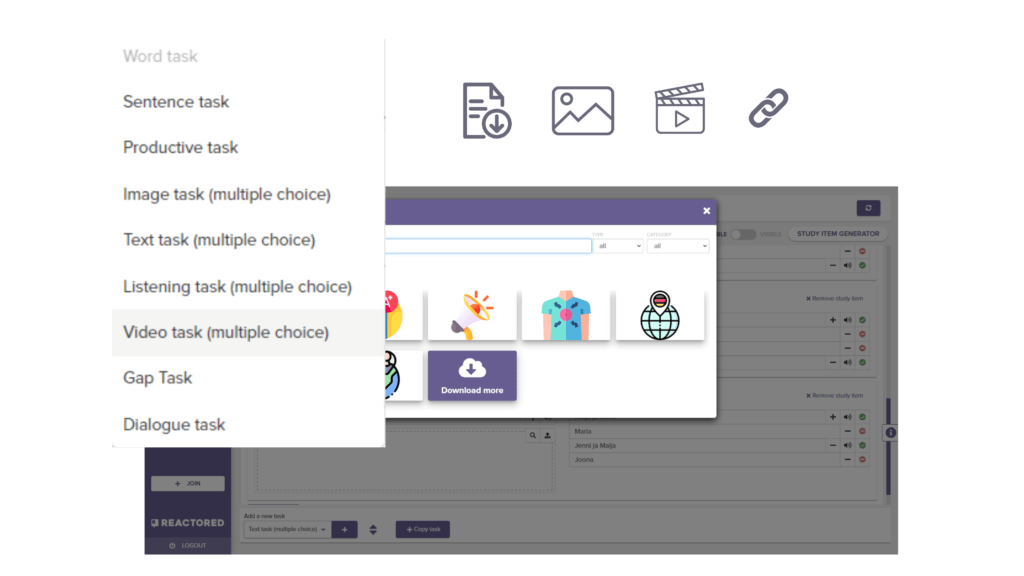 Versatile task types and Content tools
With Reactored's assignment tools, you can create high-quality learning materials easily and quickly. Teaching materials can consist of video, picture, text, and audio tasks.


Lessons are designed to be interactive and they adapt to the screen size of the user's device.



Responsive views, immediate feedback, response style adjustment and automatic pronunciation examples make language practice natural
Automated evaluation and review
In Reactored, there are several different task types, which make it possible to implement pedagogically high-quality online teaching.


Tasks are checked automatically and the system also measures the used answer method and time per task.


By clicking on the colored lesson ball, you can see more specific information about each student's performance, for example, which tasks cause difficulties and where there is still work to be done.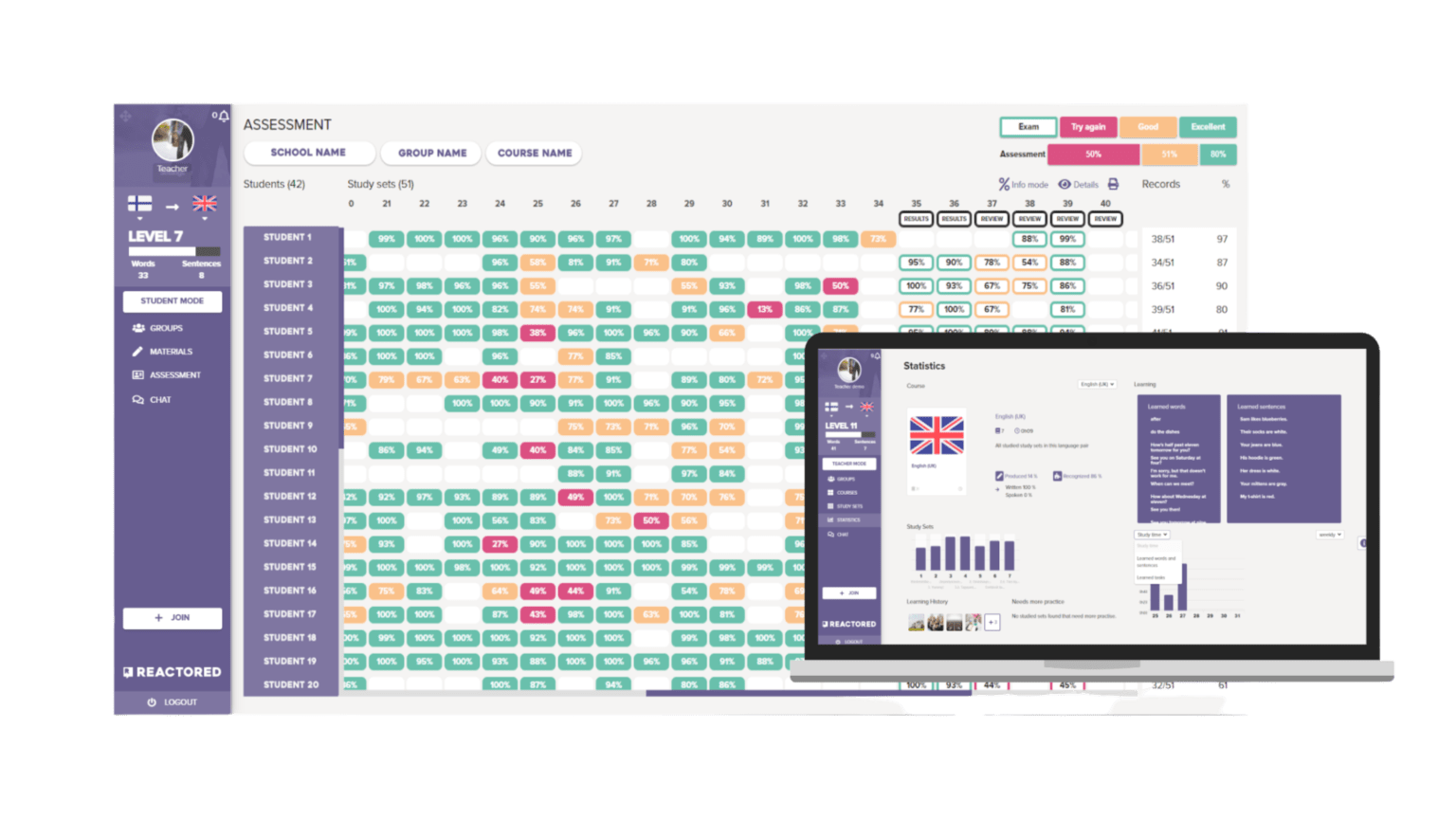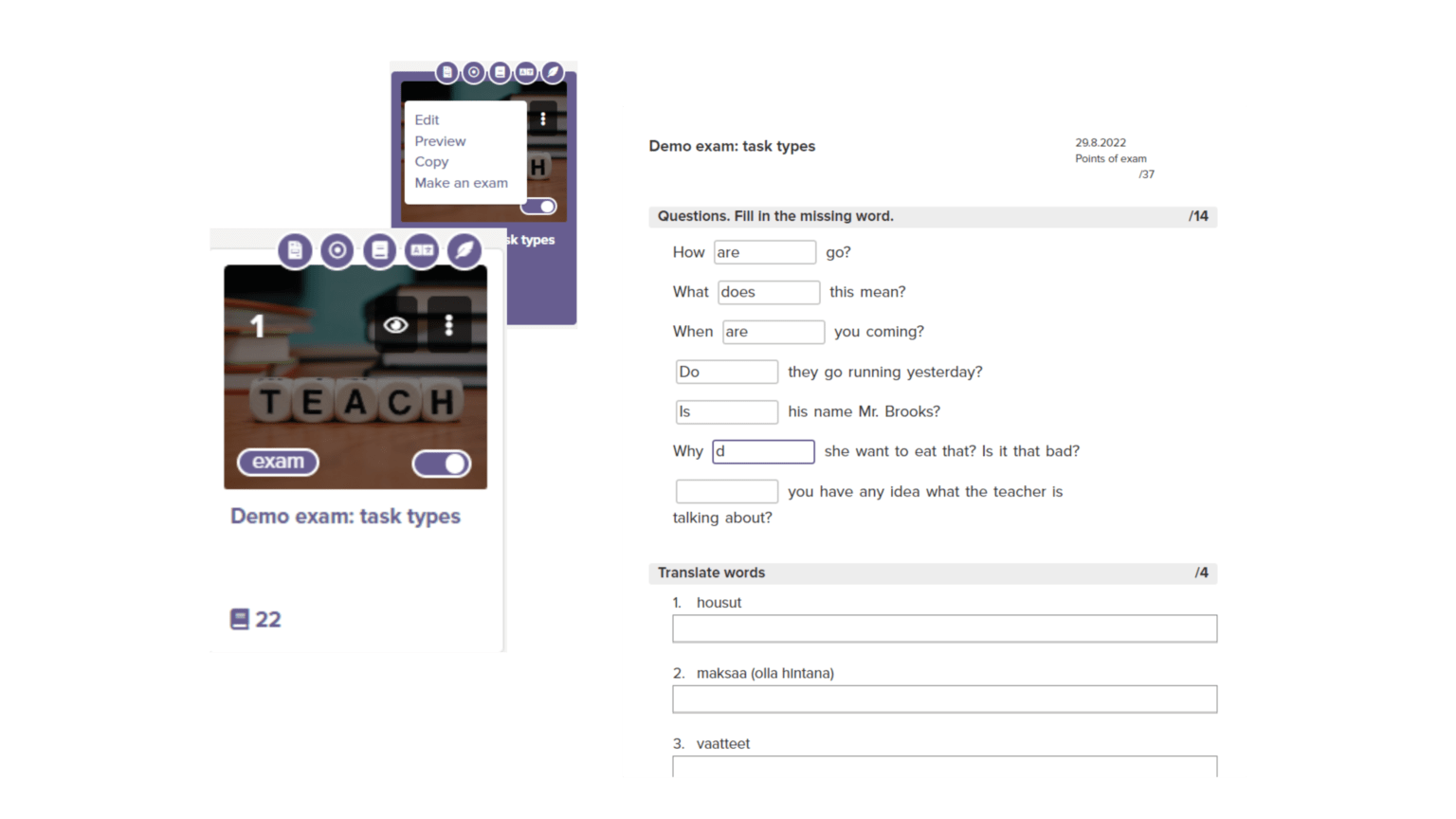 Digital exams, assessment and revision
You can build exams from scratch or make a copy of an existing lesson into an exam.

The types of tasks and the appearance become similar to a paper test, and the aids for the tasks (pronouncement example, spelling recognizer, next letter button) are disabled.

You can set a duration for the test and schedule it for the day you want in advance.

The exam review tool learns according to the scores you give and automatically assigns points to identical errors in the future.

If the internet connection is unstable, you can also print the exams as a pdf. file and administer it the traditional way.
Reporting and real-time learning analytics
Reactored enables comprehensive reporting at both group and individual level.

You can see the results in real time and you can give feedback directly in the evaluation view.

You can print a report for each course or for the entire language, in which case all the learned learning content will be collected in the same view.

The reports can also be printed in pdf. format.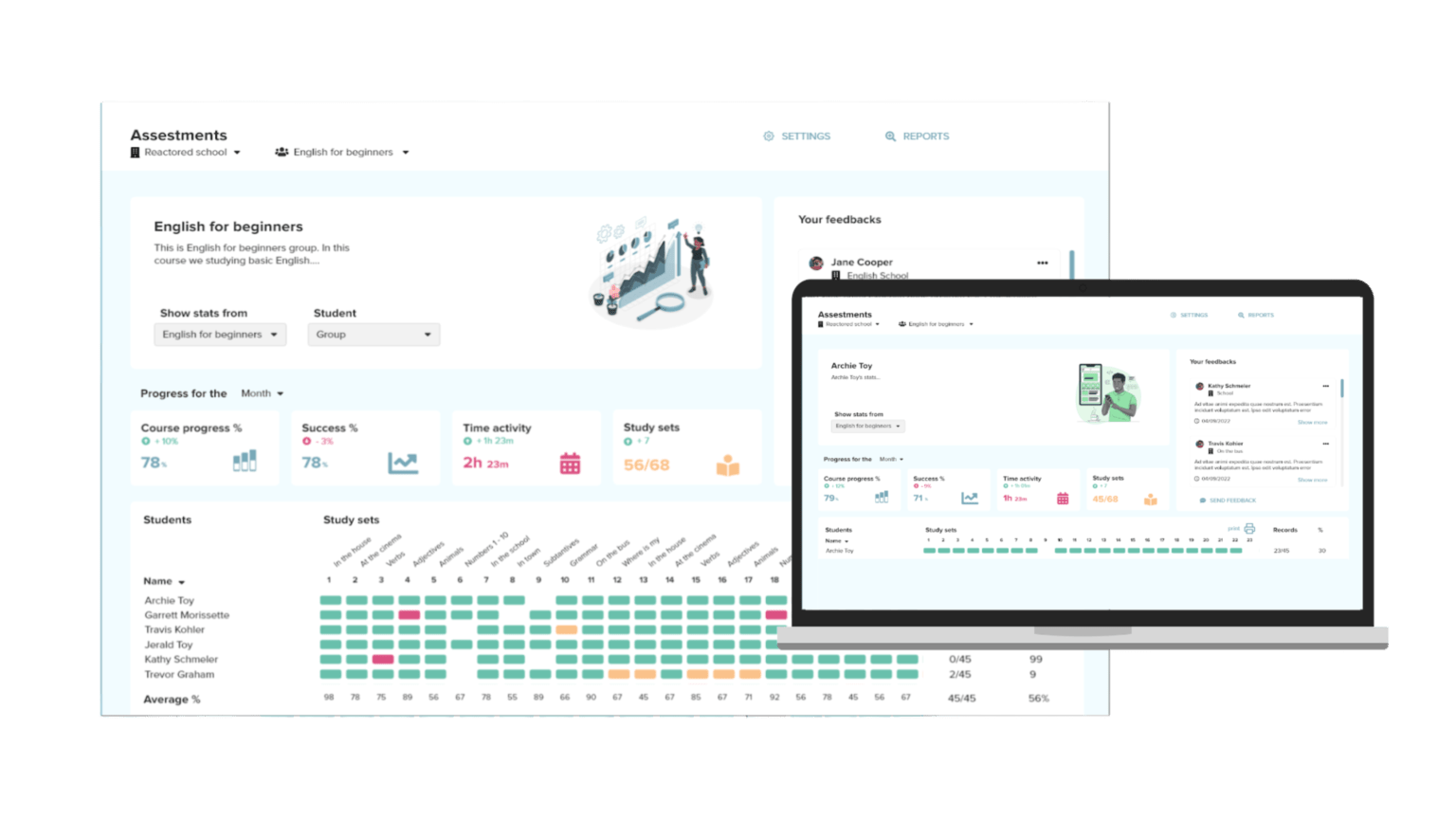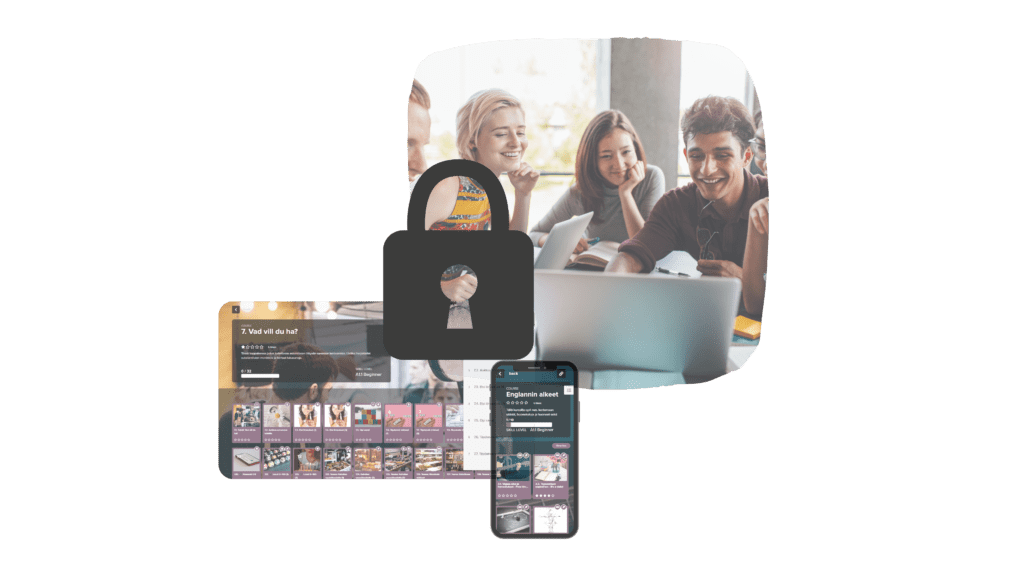 Security and technical support
Implementing Reactored is easy and can be done without the help of ICT support. The learning platform is used with a web browser and is available 24/7 as long as you have an internet connection. To guarantee the best user experience, we recommend using the Chrome or Edge browser on PC and Android devices, and the Safari browser on iOS devices.

The content produced by the user is automatically saved in the system and backed up in real time.

The server environment we use is highly secure and protected from various attacks by technical means.

All traffic to the platform takes place over a secure connection

We monitor our services to ensure reliable functionality

We limit and record access to customer data

All our servers are located in the EU area and our service is GDPR compliant

You can find more information about the service's data protection in our registry statement here: https://reactored.com/privacy-policy/
Browsers that Reactored supports
Reactored adapts to your organization's training needs. Contact us by phone, book a demonstration or send us an email.
Sales: +358 40 5370375
myynti@reactored.com
Copyright © 2023 Reactored. All rights reserved